World Cup legacy: more bids to get South Africans out of their cars
The Fan Walk – a car-free stretch in Cape Town that connected a downtown public soccer viewing area with a World Cup stadium – has spurred plans for more pedestrian malls at sporting events.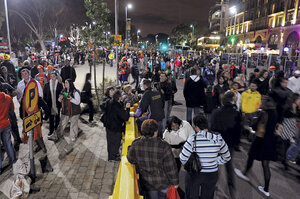 Newscom
During this summer's World Cup, Somerset Road in Cape Town was transformed into a South African oddity: a road without cars.
They called it the Fan Walk, 1.6 miles of asphalt connecting a public soccer viewing area downtown with the newly constructed Green Point Stadium. The path was mobbed with people during the city's eight World Cup matches; a sea of fans, performers, and kids running wild. The street party was a big change for a city and country that has shied away from venturing beyond the comfort and security of the private automobile.
"The motorcar is central to everything we do," says Dave Dewar, chair of City and Regional Planning at the University of Cape Town's School of Architecture and Planning. "There is no great urban tradition of walking."
But the Fan Walk experience could change all that. Cape Town is now planning more pedestrian malls for major sporting events, and the Fan Walk was recently re-opened as part of a celebration for Nelson Mandela's 92nd birthday.
"You've got 30 years of car-based culture and planning," says Andrew Boraine, chief executive of the Cape Town Partnership, which is trying to improve the central business district. "It's hard to transform a car-based culture into a society where people are confident about public space."
---