Kenya's Odinga named to mediate Ivory Coast political crisis
Kenyan Prime Minister Raila Odinga has been named by the African Union to mediate Ivory Coast's political crisis and avert another civil war.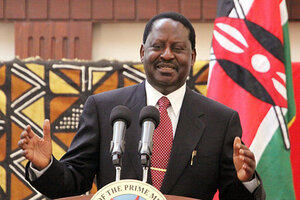 Khalil Senosi/AP
The African Union has named Kenyan Prime Minister Raila Odinga to lead a delegation to mediate the ongoing political crisis in Ivory Coast.
With two men – incumbent President Laurent Gbagbo and Alassane Ouattara – claiming victory in the Ivory Coast's November runoff presidential elections, the crisis has become bitter and violent, claiming over 200 lives, and sending some 14,000 Ivorians fleeing into neighboring countries. The elections were tightly contested and international observers and the nation's electoral commission gave the nod to Mr. Ouattara. The West African Economic Community (ECOWAS), the United Nations, the African Union, the European Union, and most individual nations have acknowledged him as president-elect, but President Gbagbo has so far refused to cede power.
Jean Ping, the head of the African Union Commission, told reporters he had asked Mr. Odinga to "lead the monitoring of the situation in Ivory Coast and bolster the efforts being undertaken" to end the crisis.
The November elections were supposed to be the final step in bringing peace to Ivory Coast, which experienced a brutal civil war in 2002, divided largely along ethno-religious lines between a mainly Muslim north and a mainly Christian south.
---