'Genocide' in Ivory Coast: A real threat, or just politics?
Wednesday's 'genocide' warning from an ally of Ivory Coast President-elect Alassane Ouattara has enough elements of truth in it to worry observers.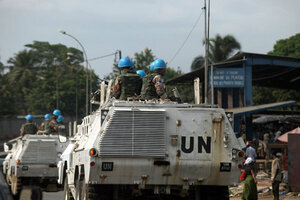 Sunday Alamba/AP
Could incumbent President Laurent Gbagbo's refusal to cede power to President-elect Alassane Ouattara after apparently losing the Nov. 28 Ivory Coast run-off really lead to genocide?
That was the claim made by Youssofou Bamba, Ivory Coast's new ambassador to the United Nations, after presenting his credentials to UN Secretary General Ban Ki-moon in New York on Wednesday. Mr. Ouattara has been recognized worldwide as the winner of the presidential election and Mr. Bamba is his appointee to the UN post.
Referring to the increasingly volatile political crisis in the West African nation, Bamba said "we are on the brink of genocide" and appeared to appeal for international help, saying "something must be done."
Given the violent recent past of Africa's Great Lakes region, particularly in Rwanda, the words "Africa" and "genocide" in the same sentence are taken seriously. And it looks increasingly likely that Gbagbo loyalists are going to use violence in their effort to hold on to power.
A Saturday siege?
Charles Ble Goude, officially the youth minister under Gbagbo but whose real power comes from his position as a commander of the incumbent president's street level supporters, called today for a Saturday assault on Ouattara and his closest supporters, who are holed up in an Abidjan hotel under UN protection.
---