Liberians, once refugees themselves, aid those fleeing Ivory Coast
Fearing violence, more than 30,000 people have fled Ivory Coast for Liberia, which is scrambling to help them. Nearly two-thirds of the refugees are children and more than half are female.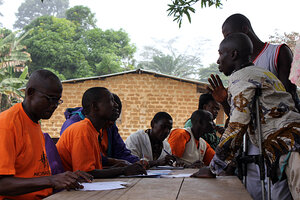 Paige McClanahan
Lucie Ikakehou stands in a long line of people in the searing midday heat, hugging her swollen belly with one hand and stroking her daughter's head with the other. She's waiting for a handout of a blanket, a sleeping mat, and other supplies – essentials that she has gone without for the past four weeks.
Five months pregnant, Lucie walked five days from her village in western Ivory Coast to reach this small outpost just over the border into Liberia. Word had reached her village that civil war was coming back to her country.
"I was scared," she says. So she and her daughter fled.
There is no camp to take her in, although aid workers are rushing to build one. For now, Lucie, her daughter, and thousands of others like them are simply squeezing into the homes of Liberian villagers along the border.
Ivory Coast's former president Laurent Gbagbo and president-elect Alassane Ouattara remain fixed in an increasingly violent standoff after a disputed election on Nov. 28. Fearing violence, more than 30,000 Ivorians have already abandoned their homes and sought refuge in Liberia, their neighbor to the west.
Aid workers here in Nimba County are scrambling to accommodate the refugees, but distributing food and other essentials is not easy in this part of the world, where a 40-mile journey on a deeply rutted road can take more than three painful hours in an SUV.
---