As Ivory Coast's Gbagbo holds firm, 'blood diamonds' flow for export
As Ivory Coast's renegade President Laurent Gbagbo shrugs off international attempts to isolate his regime, smugglers continue to export 'blood diamonds' in contravention of a United Nations ban.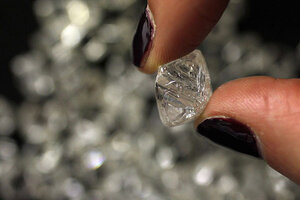 Stefan Wermuth/Reuters
"Blood diamonds" have been eradicated in every part of the world, save one: Ivory Coast, the small West African nation that now stands on the brink of returning to civil war.
Smugglers in Ivory Coast continue to carry illicit diamonds across the country's porous borders despite a United Nations ban on exports of the stones. Revenues from the illegal trade are probably buying arms for the New Forces rebel group in the north, even as the southern half of the country remains fixed in an increasingly violent political standoff in which renegade incumbent President Laurent Gbagbo refuses to hand power to President-elect Alassane Ouattara.
Exports of "blood diamonds" have underwritten grisly civil conflicts in Africa for more than 15 years, most famously in Angola, Sierra Leone, and Liberia. To combat the trade, the Kimberley Process Certification Scheme was established in 2003 and has been widely hailed as a success. But even though the diamond-funded conflicts of the 1990s are over and most of the countries involved now mine and export diamonds legally, Ivory Coast remains the one exception.
"[Ivory Coast] is the only country where, strictly speaking, you do have conflict diamonds," says Stéphane Chardon, the chairman of the Kimberley Process's Working Group on Monitoring. "I think this is a very volatile situation. At this stage, the main goal is to prevent [Ivorian] diamonds from contributing to any wrongdoing."
---