State of the Nation: Zuma's jobs focus brings sighs of relief in South Africa
South Africa President Jacob Zuma promised a $1.2 billion fund to create jobs, but critics and supporters alike question whether his government has the capacity or will to deliver.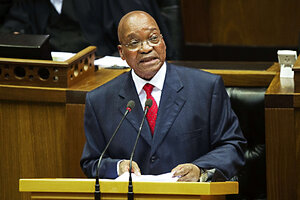 Reuters
Johannesburg, South Africa
South African businesses breathed a sigh of relief Thursday night when President Jacob Zuma announced a raft of economic incentives to create jobs, including tax breaks for the manufacturing sector, in his second State of the Nation address.
Mr. Zuma's speech to the parliament in Cape Town was all the more a relief given the increasing pressure coming from Zuma's own party for more drastic government intervention into the economy, including nationalization of the country's mines. Zuma's list of promises excluded actual nationalization, but did pledge to support the creation of a state-owned mining company.
"The president has come to appreciate that minerals belong to us," said Julius Malema, the fiery African National Congress Youth League leader, after the speech. "We must now start eating mangos and not just having a mango tree." The ANC Youth League, along with trade unionists, was crucial in swinging support toward Zuma for his 2008 election, but has more recently become critical of Zuma for his perceived pro-business economic policies.
Zuma's ANC has control of almost two-thirds of the seats in parliament, so passing his parliamentary agenda should be no problem given sufficient political will. And it is the political will that critics of Zuma, both within his party and outside of it, are questioning.
Those on the left complain that Zuma still has not honored promises from his 2010 State of the Nation speech, in which he signaled a pro-poor focus for his government. Those on the right say that Zuma's accumulated promises would bankrupt the national budget at a time when the country's economy should be growing. But his almost single-minded focus on the economy and creating jobs for unemployed youths seems to have drawn tentative praise from all corners.
---