Next challenge for Congo: International terrorism
(Read article summary)
Along with Somalia's Al Qaeda-linked Al Shabab militants, many intelligence sources are placing blame for the July 11 Uganda bombings on the ADF-NALU, an armed group based in the mountains of eastern Congo.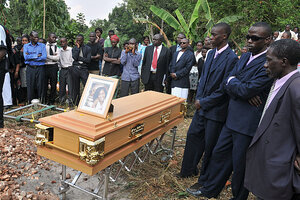 Ronald Kabuubi/Reuters
Numerous sources in Ugandan intelligence have placed the blame for the Kampala bombings of July 11 on the ADF-NALU, an armed group based in the Ruwenzori mountains in eastern Congo. (See this well-sourced story by Andrew Mwenda regarding alleged ADF involvement in the bombings). According to these allegations, Muslim radicals from the Tabliq community and connected to Al-Shabaab were the masterminds behind the attack.
Some in Uganda have suggested that President Yoweri Museveni is playing up the domestic terror threat so as to clamp down on opposition in the run-up to elections. Others have placed the blame solely on the Somali Al-Shabab group, which claimed responsibility for the attack. Indeed, one might wonder why the ADF-NALU when they have been relatively dormant for several years; most intelligence reports I have seen from the United Nations Mission in Congo (MONUC) indicate that they are mostly composed of Congolese and have little political agenda.
Training camps?
But there are reasons not to dismiss the ADF-NALU outright. UN officials who have recently interviewed ADF-NALU defectors suggest that there are regular visits to the group by foreigners, certainly from Sudan, but apparently also from South Asia and Somalia. Training sites have allegedly been set up for special forces, whose purpose is not known but could include bombings like the ones we saw in Kampala. Raids of ADF-NALU camps have reportedly yielded instruction manuals on how to build makeshift bombs and IEDs. Defectors are often young Muslims who were brought across the border by relatives from Koranic schools in Uganda.
---