Nigeria explosion: Twitter broke the news
(Read article summary)
Before the Nigeria explosion even happened Friday, Twitter was already warning Nigerians, and it continued leading the news organizations all day.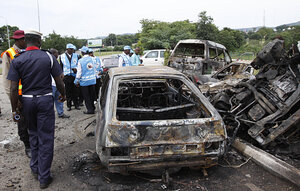 Sunday Alamba/AP
Malcolm Gladwell is off the pace. Perhaps context is everything when it comes to the power of social media, and its amphetamine-fuelled upstart, Twitter. In the US and the West in general, hot news stories are quick to break, with most angles to a story covered relentlessly until the next news break hits the shore. Helicopters take to the air, talk show hosts take calls, the 24 hour news cycle throws resource at the scene, pundits are summoned to the studios..
Things play out quite differently in other parts of the world. Take the recent tragedy on October 1, here in Abuja. The news warning of a bomb threat from MEND came through Twitter (just minutes after MEND spokesman Jomo Gbomo's email was sent). The news of the explosions (first in Eagle Square, then down the road) came through Twitter, from eyewitnesses using their mobile phones. The fastest global news Twitter feed of them all, Breaking News, was onto the story within a few minutes. The news that people had been killed came through Twitter. Bodies were "seen" first on Twitter. As the terrestrial TV stations went into news blackout mode (showing only the fly past and calisthenics displays), the story developed – on Twitter, backed up by Facebook (although this was much slower and more sluggish), SMS, BBM and Voice. Those looking in from conventional media sources overseas, including CNN and the BBC, had to remind twitterers to continue using the correct hash tags so they could follow events. They were powerless to lead on the news – plane tickets had yet to even be bought.
---