South Sudan's ruling party mending ties with opposition
(Read article summary)
South Sudan's ruling party, SPLM, is trying to make amends with opposition groups in order to be more unified ahead of the January referendum.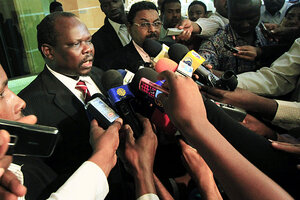 Mohamed Nureldin Abdallah/Reuters
With few months left until the South Sudan referendum, the ruling south Sudanese party, or SPLM, is preparing for the vote by cleaning house. Since last week, President of South Sudan Salva Kiir has very publicly extended olive branches to a number of rebel leaders, political opposition, and other armed actors in the South who have the potential to stir up violence and threaten the vote. These actors have diverse agendas and varying sources of support, but all have unsettled grievances with the ruling party.
Kiir reportedly sat down with opposition leader Lam Akol in a rare meeting two weeks ago in Juba. Akol, who is the leader of the opposition party SPLM-DC and ran against Kiir for presidency, welcomed the outreach, saying, "The most important thing for all of us is how to do and prepare a conducive atmosphere for the referendum." Talks with Sudanese army Major-General Gabriel Tanginye have reportedly compelled the general, formerly aligned with the northern army, to join the SPLA. Tanginye's forces – which make up the northern portion of the joint North-South force in Upper Nile – have been major sources of instability, clashing twice with the SPLA in Malakal, in 2006 and 2009.
---