Sudan referendum will pose unique challenge in towns near future border
(Read article summary)
The upcoming Sudan referendum will pose a challenge for Renk, a town that is technically in south Sudan but is heavily influenced by north Sudan's culture and economy.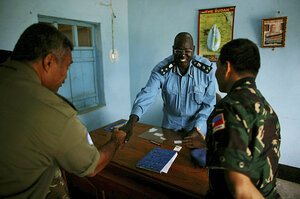 Pete Muller/AP
In the northernmost point of Southern Sudan, the challenges facing the south as it looks toward independence are starkly evident, but not in the way I imagined before arriving in this surprisingly developed and bustling town roughly 30 miles from Sudan's north-south border.
Renk feels unlike much of the rest of Southern Sudan thanks to reliable, 24-hour electricity, streetlights lining paved roads in the town center, and a lively evening market populated by northerners, southerners, and immigrants from Ethiopia, which borders Upper Nile state.
Sudan's "center-periphery" dynamic has driven conflict in the country since independence. Khartoum has generally been the site where Sudan's wealthy and powerful elite have directed their campaigns of marginalization and violence against the country's peripheral populations (like those in Darfur and in the south). If follows that development and prosperity in Sudan emanate from the capital Khartoum, but over the years, the ruling National Congress Party regime has extended its riches to other select areas, mostly in the Nile river areas south near the capital.
---