Africa's uranium producers stand to benefit as world reins in carbon emissions
(Read article summary)
Global warming has taken an outsized toll on many African countries. But with world uranium demand rising, there may be a way to recoup some of the losses.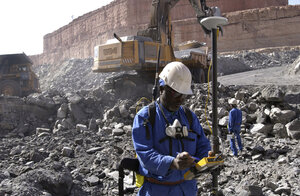 AREVA/AP
Here's one messy and convoluted way for the African continent to recoup the climate change losses it claimed at Copenhagen: uranium.
The mineral-rich landmass contributes just a fraction of the airborne carbon that the world's top polluters let fly, but Africa arguably suffers global warming's brunt, as drought lines below the Sahara drift southward, one dry season after another.
Policymakers at the December 2009 conference addressed this conundrum less by promising to cut carbon emissions than by promising to budget more foreign aid for climate change-rattled countries, including $100 billion by 2020 from the US alone.
But while bureaucrats in Chad and Burkina Faso wait for agriculture aid to seep into state coffers, they may start netting a more immediate profit by auctioning off the flush radioactive rocks sitting idle in Africa's three deserts.
China and India are scouring world markets for non carbon-emitting fuels – chief among them uranium to light up the 60 new reactors the People's Republic aims to build by 2020.
---