On World AIDS Day, infection rates are declining, but dwindling funds threaten progress
(Read article summary)
World AIDS Day on Wednesday is a chance to assess the impact of six years of heavy US and international donor funding.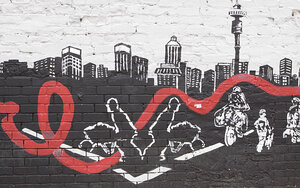 Denis Farrell/AP
Johannesburg, South Africa
This year on World AIDS Day, we're likely to hear more of the bad news than the good. This is normal. One doesn't call a fire department to report the 99 houses that are perfectly fine, but rather the one that is burning. Still, when it comes to the current state of the AIDS epidemic, the truth may be found in the balance between the two extremes.
First, the good news.
After several decades of explosive growth, particularly in Africa, there are signs that the AIDS epidemic is slowing. Over the past decade, new HIV infections have decreased by 20 percent, according to UNAIDS, the United Nations AIDS agency.
Here in South Africa – the country with the world's highest number of people living with HIV, at 5.6 million – the drop in new infections is 25 percent. What this means is that all that money spent on education about condom use, abstention from sexual behavior, and being faithful to one's partner seems to be working.
---