Sudan referendum fuels tension in key border town of Abyei
(Read article summary)
Ethnic tensions rise as large numbers of displaced Ngok Dinka return to Abyei ahead of the historic Jan. 9 Sudan referendum.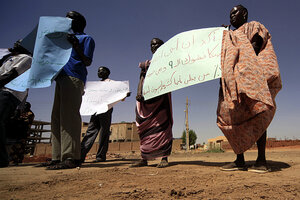 Mohamed Nureldin Abdallah/Reuters
On Jan. 9, Sudan will hold a referendum on the question of Southern secession. Abyei, an oil-rich district situated near the border of North and South Sudan, is supposed to hold its own referendum on the same day:
Voters will be asked to decide whether to retain Abyei's special administrative status in the north or become part of Southern Sudan, irrespective of the outcome of the south's own referendum on secession. The result of the referendum will be determined by a simple majority of votes cast.
Due to a breakdown in North-South negotiations over logistics in Abyei, Abyei's referendum may not happen on time. Many observers are watching closely to see whether Abyei will resolve its problems peacefully or, in the worst case scenario, become ground zero for a new Sudanese civil war. Given ethnic tensions in Abyei, North-South tensions in Sudan as a whole and especially in the border regions, and the importance of oil for the economies of both North and South, what happens in Abyei has tremendous importance for the future of the country/ies.
Let's look at the situation more closely.
Despite the fact that Abyei's referendum might not take place as scheduled, the approach of the referendum date is worsening the district's interlocking problems. An IRIN headline says that Abyei is "bracing for a 'bad Christmas'":
---