Massive iron ore project brings mining tensions back to Sierra Leone
(Read article summary)
The London-based African Minerals firm claims its efforts to mine a whopping 11.7 billion tons of iron ore will bring $1.75 billion in foreign investment to Sierra Leone.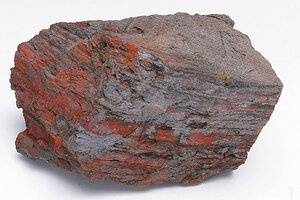 Newscom
Nine years after the end of Sierra Leone's notoriously grisly civil war, the small West African nation still known for its "blood diamonds" has attracted a deep-pocketed and ambitious investor. The project in question promises huge economic gains but could threaten the country's still-fragile peace. The sector? The same one that caused so much trouble back in the 1990s: Mining.
Today, iron ore – not diamonds – is the precious commodity at stake. And the investor is not Charles Taylor (the former Liberian president on trial at The Hague for war crimes) but a London-based firm called African Minerals.
The company claims to have found an 11.7 billion-ton deposit of iron ore in Sierra Leone's Tonkolili district, roughly 140 miles east of Freetown, the country's capital. If its estimates are on target, the cache would be one of the largest deposits of its kind in the world.
Massive infrastructure projects
The company, which was granted a lease to the land in August, is tackling some formidable logistical challenges to access the iron ore. Construction of a massive deep-water port is under way and a new railway line to connect the site to the Atlantic Ocean is nearing completion. A 50-megawatt hydropower dam is also in the works.
All of this activity will bring in foreign investment worth $1.75 billion, African Minerals claims, a figure that represents nearly 40 percent of the country's 2009 gross domestic product.
---