How revolt in Egypt, Tunisia plays in South Africa
(Read article summary)
As the number of young people in South Africa increases and access to the Internet improves, so too will access to the kind of resistance we're witnessing in Egypt and Tunisia, writes guest blogger Khadija Patel.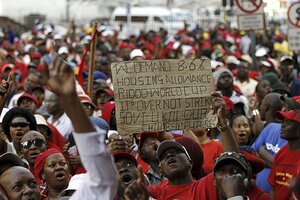 Siphiwe Sibeko/Reuters
Johannesburg, South Africa
In the provincial town of Sidi Bouzid, in Tunisia, Mohamed Bouazizi was 10 years old when he became his family's bread winner, selling fresh produce in the local market.
While he attended a local high school, he did not graduate and his attempts at finding work in the public sector were futile. His day would begin in the town supermarket where he would load his wooden cart with fruit and vegetables and then walk to the local market five kilometers away. Mr. Bouazizi, at 26 years old was used to being accosted by the police. But in December, he was pushed too far. A policewoman confronted him on the way to the market and like a bully in an elementary school playground she insisted he hand over his scales for want of a trading licence. Bouazizi refused. After a heated verbal exchange, the policewoman slapped him and with the assistance of other officers, forced him to the ground.
His meager stock of fruit and vegetables, as well as his scales, were confiscated. Publically humiliated, Bouazizi sought redress. After being denied an opportunity to speak to a municipal representative and in a fit of angry despair, Bouazizi set himself alight outside the municipal office. Some weeks later, Bouazizi died, a casualty of circumstance, if not abject anguish.
Think you know Africa? Take our geography quiz.
In the days that Bouazizi lay in hospital, every inch of his body covered in bandages, his picture was printed in newspapers around the world. And if the rest of the world reacted with alarm, the desperation of Bouazizi resonated loudly with the Tunisian people.
---