Congo needs a US envoy, Ben Affleck tells Congress
(Read article summary)
At a House subcommittee hearing, Ben Affleck and Enough Project founder John Prendergast said the US needs to make a stronger commitment to ending the conflict in Congo by appointing a special envoy.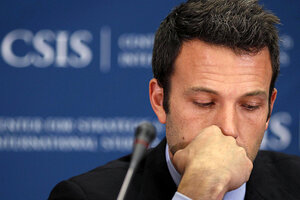 Larry Downing/Reuters
Aptly falling on the 100th anniversary of International Women's Day, a House subcommittee called a hearing yesterday on what can be done to "secure peace in the midst of tragedy" in Congo.
Members of the Subcommittee on Africa, Global Health, and Human Rights, chaired by Rep. Chris Smith of New Jersey, heard from an impressive panel of experts, including Donald Yamamoto of the U.S. State Department, Rajakumari Jandhyala from USAID, actor Ben Affleck, Francisca Vigaud-Walsh of Catholic Relief Services, and the Enough Project's John Prendergast. Themes of the discussion included the upcoming election, civilian protection, women's rights, and the need for transparency in Congo's minerals trade.
---