Relations between North and South Sudan deteriorating amid rebel violence
(Read article summary)
Violence in towns along Sudan's north-south border has prompted a flurry of accusations that are setting a poor stage for the country to peacefully split this summer.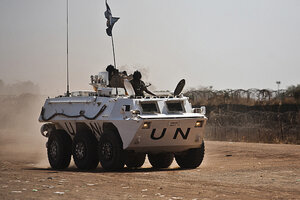 Tim Freccia/AP
Border relations between North and South Sudan have not been very smooth of late.
This weekend, there was an overnight raid by a southern militia on South Sudanese army forces stationed in the strategic South Sudanese town of Malakal, which the army immediately blamed on the Khartoum government. Then, a top South Sudanese government official announced the suspension of talks with the north's ruling National Congress Party, accusing the northern government of backing the rebel militia responsible for some of the instability that has rocked the oil-rich south in the month since the results of its independence referendum were announced.
On Tuesday, former South African President Thabo Mbeki, who leads a panel of former African heads of states supporting the North-South negotiations, traveled to Juba to meet with South Sudan's leader Salva Kiir, presumably to encourage the south's ruling party to resume contact with the Khartoum government. After this meeting, Mr. Mbeki told reporters that he was optimistic that the two sides could find common ground and resolve the array of complex "post-independence" issues before July. Ambassador Princeton Lyman, the US government's liaison to the north-south talks, was also in Juba pushing similar messages.
---