'Naming and shaming' may not be enough to halt conflict mining in Congo
(Read article summary)
While 'naming and shaming' tactics are gaining momentum in the fight against Congo's conflict minerals, they won't be enough if the trade just shifts to India and China.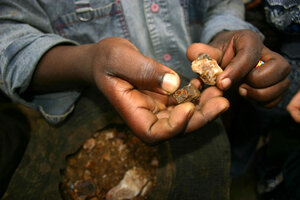 Scott Baldauf/Christian Science Monitor
Numerous US student groups have launched initiatives to prevent universities from investing in or purchasing conflict minerals from the Congo. Stanford University, the first to take concrete steps last year by passing proxy voting guidelines, is now hosting a conference from April 8-10 to share experiences and strategies and to plan further actions.
These initiatives fall within the spirit of the US legislation passed last June. The Dodd-Frank bill does not punish companies for buying or using conflict minerals, instead imposing fines if they fail to publish what kinds of efforts they are taking to determine where their minerals are from (in "Conflict Minerals Reports"). In other words, the legislation will criminalize the lack of transparency, not the use of conflict minerals.
Hence the importance of private actors, such as universities. If universities – some of which have huge endowments – begin divesting from companies that use conflict minerals, these businesses will change their behavior.
This is the spirit in which universities such as Stanford have passed proxy voting guidelines, which mean that if a shareholder vote comes up with regards to this issue, Stanford will vote against the use of conflict minerals. It's an important, albeit symbolic step – it is unlikely that such a vote would come up in the first place, but it still sends a strong message.
The University of Pennsylvania is pursuing another route, this past week issuing a statement saying they would not purchase electronics from companies that are not members of the Electronics Industry Citizenship Coalition (EICC), which include most major electronics companies and has said its members will stop purchasing minerals from the eastern Congo in April this year if they are not properly tagged and traced. The UPenn initiative was also made following pressure by students.
---