South Africa joins the BRICS club, calls for reform of UN
(Read article summary)
South Africa has long seen itself as a voice of developing nations. Now as a member of the BRICS club – Brazil, Russia, India, China, South Africa – it can speak with the political heft of a fifth of the world's economy behind it.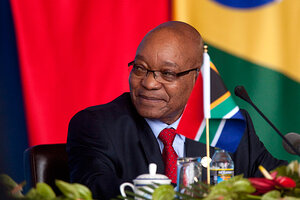 Nelson Ching/Reuters
Johannesburg, South Africa
South Africa this week joined a club of the world's emerging economic giants, a group that plans to flex its muscles on the global stage in coming years.
The club is called BRICS, an acronym of the five member states: Brazil, Russia, India, China, and South Africa. Like the Group of 8 (which also includes Russia), BRICS meets on a regular basis to discuss economic issues of interest and also political concerns that each of the nations share. Whereas the G-8 is a self-selecting by-invitation-only club of rich nations, BRICS is a self-selecting, by-invitation-only club of up-and-coming regional powers who make up nearly a fifth of the world's gross domestic product.
It's a small distinction, perhaps. But it is a distinction that BRICS is careful to preserve, and one that BRICS hopes will earn it increasing political heft as a voice for developing countries to counter the overwhelming power of Europe and America on the global stage.
Challenging the UN
---