Uganda's Museveni lashes out at media, blames 'drug users' for unrest
(Read article summary)
Ugandan President Yoweri Museveni accused foreign and domestic media outlets of cheering on opposition supporters on Tuesday. He said they would be treated as 'enemies of Uganda's recovery.'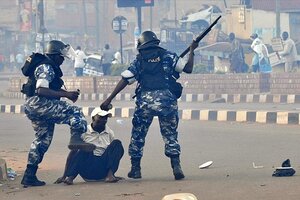 James Akena/Reuters
After Egypt's ousted President Hosni Mubarak attacked satellite TV channels and Libya's embattled leader Muammar Qaddafi called protesters drug-addled rodents, you might have thought that other African leaders facing unrest at home would try a new approach.
But on Tuesday veteran Ugandan President Yoweri Museveni instead took a page out of the playbook of his colleagues from North Africa – blaming recent turmoil in the country on drug-fueled rioters and lashing out at outlets such as Al Jazeera.
Think you know Africa? Take our geography quiz.
In a lengthy statement, Mr. Museveni accused opposition leaders – especially his perennial bête-noire Dr. Kizza Besigye – of using a spate of recent protests over surging living costs as cover to try to create chaos in the country.
"They want to ignite riots using drug-users or even hired groups to loot the property of the [civilians]," Museveni said.
Protesters brought 'shame' to Uganda
Museveni was particularly incensed after his lavish swearing-in ceremony for a fourth term last Thursday was overshadowed by Dr. Besigye's return to the country following almost two weeks in Nairobi being treated for injuries he received from security operatives during an earlier arrest.
---