Wal-Mart coming soon to an African country near you
(Read article summary)
The South African government approved Wal-Mart's controversial deal to buy local chain Massmart, opening the door to expansion throughout the continent.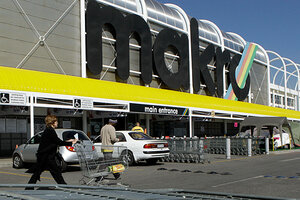 Themba Hadebe/AP
Johannesburg, South Africa
The following is an update on the Monitor story "Wal-Mart: In or out of Africa?," which was published on May 25.
Attention South African shoppers: Wal-Mart will soon be open for business.
South Africa's Competition Tribunal, a governmental body, on May 31 approved Walmart's $2.4 billion deal to buy local retailer Massmart. Critics say the move will cost thousands of jobs, while proponents say it could save consumers millions of dollars each year.
South African unions announced plans to strike at Massmart stores, and South African government officials promised to review the deal. But Massmart itself says that it plans to open 50 to 100 new shops in South Africa and Wal-Mart itself plans to expand deeper into the 53 other countries of the African continent.
The country's largest union group, the Congress of South African Trade Unions (COSATU) said it was "gravely disappointed" by the tribunal's decision and threatened strikes in protest.
"COSATU has never opposed foreign investment into South Africa, particularly if it leads to the creation of new, decent jobs," spokesman Patrick Craven said in a statement. "Wal-Mart, however, is more likely to destroy jobs by using its competitive advantage to force its competitors out of business" by selling goods made in "sweatshops by nonunion workers."
---
Follow Stories Like This
Get the Monitor stories you care about delivered to your inbox.