Young American Muslims pioneer a new dating game
Creative reading of Islamic tradition makes the old-fashioned 'guy meets girl' love match less of an impossibility.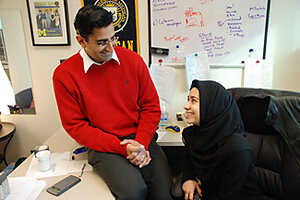 TOM A. PETER
East Lansing and Dearborn, Mich.
It was an all-American college moment on the Michigan State University campus in East Lansing: Tosif Khatri was laughing and chatting with two fellow students – both women – as they walked to a local cafe.
But the buzz of Mr. Khatri's cellphone popped the bubble. It was his cousin calling to invoke a bit of the family's old country Indian-Muslim traditions. "Not that it's any of my business or anything like that," the cousin said, "but are you, like, hanging out with girls right now?"
"I said 'Oh, no ... it's nothing silly or anything like that, it's just for the sake of a student event," Khatri recalls.
"Okay. I was just checking," signed off the suspicious cousin.
From an Islamic perspective, Khatri hadn't done anything wrong. He was hanging with two female colleagues to discuss organizational matters for the Muslim Student Association (MSA). But the line blurs when Khatri admits that the outing was also an excuse to socialize. Many Muslims would even call such a mixed-sex meeting haram, sinful.
Haram or not, outings like this happen increasingly among American Muslims as they integrate into the US. Reactions like Khatri's watchful cousin's illustrate the challenge young Muslim men and women face trying to interact, let alone "date."
The careful rules that dictate male-female interaction and courtship quite simply can't be applied in the US as they are in predominately Muslim countries. What's more, Islamic teachings lay out few undisputable guidelines when it comes to finding and meeting a mate; every Muslim tradition has its own interpretation. So, what an Indian Muslim might find permissible could be off-limits for an Arab Muslim.
The result: US Muslims are pioneering ways to read Muslim rules in ways that make sense in an American context.
---