Chávez oil fails to stem Nicaragua crisis
Pump prices have soared to more than $5.20 a gallon – the highest in Central America – despite the Venezuelan leader's promise to solve the country's 'oil problem.'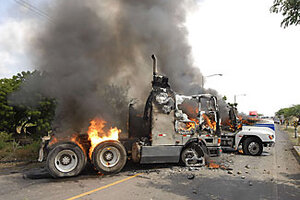 German Miranda/Reuters
Sixteen months after Venezuela's leftist President Hugo Chávez drew bipartisan hurrahs in Nicaragua with his promise to solve the country's "oil problem," the cheers have turned to jeers as Nicaragua's fuel crisis has become more crippling than ever.
Mr. Chávez last year promised to supply Nicaragua – which is now ruled by his ideological comrade President Daniel Ortega – with 10 million barrels of oil, sold at market price through a secretive Nicaraguan-Venezuelan oil company known as ALBANISA. The Venezuelan leader has also provided funding for Nicaragua to buy several new oil-burning power plants to increase production by 20 percent by 2009.
Yet gas pump prices have soared to over $5.20 a gallon – the most expensive in Central America – and electricity costs have gone up on four occasions since Mr. Ortega took office last year. The addition of the new Chávez-funded power plants have made the country even more dependent on foreign oil, which observers now fear could help grind the fragile economy of one of the hemisphere's poorest countries into the ground.
"We are even more dependent on petroleum now than were a year and a half ago, when we were having six-to-eight hour blackouts every day," says opposition Liberal Party lawmaker Francisco Aguirre, president of the National Assembly's Economic and Budget Commission. "If the American economy is reeling because of energy prices, imagine what that means for us in Nicaragua."
How oil dependency developed
The country's oil dependency is a relatively new problem.
Before Ortega's leftist Sandinista revolution in 1979, more than 70 percent of Nicaragua's energy was hydroelectric. Today, thanks to a lack of state planning by the last four governments from the right, left, and center of the political spectrum, the trend is going the other way fast.
---