Nicaragua's Ortega defiant after US, Europe yank aid
President Daniel Ortega is turning to Russia and Venezuela for replacement cash – with fewer strings attached.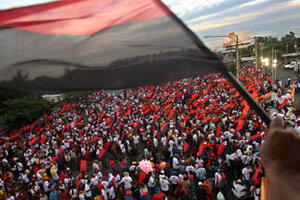 Esteban Felix/AP
Amid growing concern that Nicaraguan President Daniel Ortega is leading his country off the path to democratic reform, foreign donors have started to cut off massive amounts of economic aid. Combined with the worsening global financial crisis, the Western Hemisphere's second-poorest country finds itself in increasingly dire financial straits.
"If 2009 will be a tough year worldwide, it looms as catastrophic for Nicaragua," says opposition lawmaker Francisco Aguirre, president of the National Assembly's Economic and Budget Commission. "Our ills are compounded by our severe governance problems. All of this political uncertainty is raising our country's risk and also turning off the donor community that sees democracy, transparency, and rule of law as important to development."
US Ambassador John Danilovich, the head of the US Millennium Challenge Corporation (MCC) and one of Ortega's few friends in the Bush administration, announced last week that the US was suspending the remaining $64 million of $175 million awarded in grants for sustainable development projects in Nicaragua. But Mr. Ortega, a former socialist revolutionary and cold-war nemesis of the United States, shrugged off the move, saying that Nicaragua would soon get some help from Russia and Venezuela, both of which are eager to expand their influence in the region.
---