Haiti aftershock stirs panic, could hinder last-ditch rescue efforts
There were no immediate reports of serious damage after a 6.1 earthquake hit 35 miles west of Port-au-Prince this morning. But the aftershock could affect Haiti aid efforts that have finally gathered steam after last week's 7.0 quake.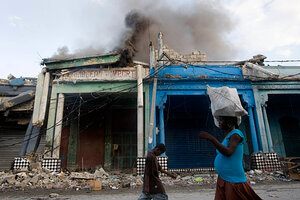 Marco Dormino/Reuters
Port-au-Prince, Haiti; and Santo Domingo, Dominican Republic
The powerful aftershock that struck Haiti early this morning incited panic among residents who are sleeping in the streets and could hinder rescue efforts as the clock ticks to save those buried alive under the rubble.
Registering at a magnitude of 6.1, it is the largest aftershock since the devastating quake a week ago Tuesday killed tens of thousands of people and left hundreds of thousands wounded and homeless.
There were no immediate reports of serious damage after the latest earthquake, centered 35 miles southwest of Port-au-Prince, but it could hamper aid efforts, which have finally gained steam after Haitians complained that food and water were not reaching their settlements
"This morning, we ... ran into the street," said an elderly woman who now sleeps with her family in a tent outside their damaged home. "[The aftershock] was really strong, really really strong. I'm afraid of this house, the tent is too close to the house, but we have nowhere else to go."
Many aftershocks
Dozens of aftershocks have shaken the earth in Haiti in the week after the quake.
In one hotel where many foreign journalists are holed up, scores run out from the badly damaged structure each time the ground shakes. Even those with hotel rooms opt to sleep outside under the stars, in case another quake takes the shaky building to the ground.
Many Haitians are doing the same. Those whose homes were not damaged have opted to sleep outside, with little idea of what fissures may remain in their homes and what damage a strong aftershock might cause.
Carmen German, who is living in the main plaza in the colonial town of Léogâne, one of the worst-hit areas, says she is sleeping outside with her family because they have no idea if more structures will fall around them. "We are afraid," she said.
---