Will Mexico shootings kill spring break buzz?
This weekend's deadly Mexico shootings of two Americans in the border city of Ciudad Juarez comes amid US alerts urging Americans to limit travel to parts of Mexico during spring break.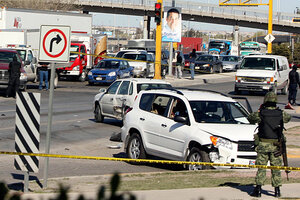 Stringer/REUTERS
Next week MTV hosts its annual spring break blowout – this year in Acapulco on Mexico's Pacific Coast. When the week is over, it will have aired massive beach parties and college kids doing things they'll probably blush about after they graduate.
But the spring break celebrations hide a darker Mexican reality – as drug traffickers fight for power in the illicit, billion-dollar drug trade.
Just over the weekend, over a dozen people were killed near Acapulco – some of them beheaded.
IN PICTURES: Mexico's drug war
Foreigners are not the typical targets. Mostly gang rivals, police, and sometimes military troops are victims of the bloody clashes. But after the killing of two Americans in Ciudad Juarez over the weekend and another Mexican citizen affiliated with the US consulate, Mexico's image as a violent place to avoid will be further sealed.
Already, STA Travel, the student travel agency, says that students preemptively opted not to go to Mexico this year, after spring break 2009 was marked by colleges urging students to avoid swathes of Mexico and parents and students calling the agency to inquire about their spring break safety.
---