Mexicans skeptical of US immigration reform in wake of DC march
Sunday's march in Washington for immigration reform made front page news in Mexico, where many complain that the US focuses too much on Mexico's brutal drug war and not enough on immigration reform.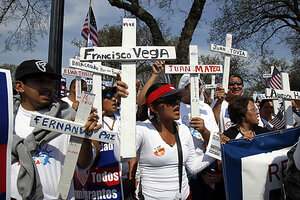 Jose Luis Magana/AP
A day after thousands of immigrants – undocumented and not – marched on the National Mall in Washington to demand immigration reform, activists in the US hope the turnout will revive a debate that has fallen by the wayside since an immigration overhaul failed in 2007 under then-President Bush.
But in Mexico, where the march made front-page news and where it seems everyone knows somebody who has migrated north, people here are skeptical about the US commitment to comprehensive immigration reform.
President Obama addressed the crowd of immigrants and activists, numbered in the tens of thousands, via a giant screen, underlining his support to get a new law passed.
"I have always pledged to be your partner as we work to fix our broken immigration system, and that's a commitment that I reaffirm today," Mr. Obama said.
But as he spoke, Washington was scrambling to push through healthcare reform, overshadowing the immigration debate, as have so many other issues – such as the fight against organized crime in Mexico – during Obama's first year in office.
---