US engineers study Chile earthquake to bolster California building codes
Since the Chile earthquake, dozens of US engineers have visited Santiago and other affected cities to study the failures and successes of building codes here. They say it provides valuable insights for California.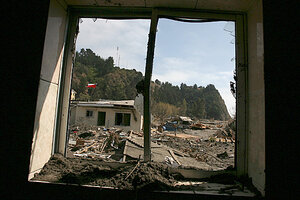 David Mercado/Reuters
In the Santiago district of Maipu, passersby kept a safe distance from a broken four-story apartment complex. But Mehmet Celebi, a research engineers, wanted inside.
Mr. Celebi had come here from the office of the US Geological Survey in Menlo Park, Calif., to study concrete structures damaged by the massive 8.8-magnitude earthquake that rattled Chile on Feb. 27. Reluctantly, and a bit incredulous, a guard lifted a band of yellow tape to allow Celebi to pass. The building, as it leaned precariously, had become one of the now-iconic images of havoc caused by the quake.
Celebi pored over the building, looking for the design failures that caused walls at the base of the building to crumble.
"This is what you call 'soft story,' " Celebi said, using the term to describe buildings that are weaker at the lower level than up top. When the quake hit, the largest load came down on the weakest part of the structure and the walls buckled.
IN PICTURES: Images from the magnitude-8.8 earthquake in Chile
"I think we have observed this is crushing," Celebi concluded, pointing to twisted rebar spilling out from the wall's interior. "This is a prize from an engineering point of view."
---