Guatemala gangs to bus drivers: pay a fee, or risk death
Guatemala gangs have for years extorted bus drivers for protection money. In 2009 alone, 146 drivers and 60 drivers' assistants were murdered.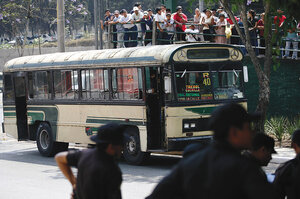 Daniel LeClair/Reuters
The week before he was killed, Rogelio Chivalan paid gangs a protection fee of $240 to drive his bus safely through neighborhoods they controlled.
They killed him anyway, with four shots to the head while he drove his bus during morning rush hour in August 2007.
"They'll kill you if you pay. They'll kill you if you don't pay. It's nothing for [the gangs]," says his widow, Ingrid Janeht Escobar. "For us, everything changed that day."
At the time, Mr. Chivalan's death was a front-page story in Guatemalan tabloids – copies of which Ms. Escobar carries in a discolored cloth bag slung over her shoulder. Since then, the killing of bus drivers has become a footnote in this country's violent downward spiral, in which Escobar has seen neighbors become widows.
Around the country, 512 bus drivers have been killed since 2006 in a scourge on the country's only public transportation system. Last year alone, 146 drivers and 60 drivers' assistants were murdered.
Gangs extort both the drivers and the private companies that own the buses for "protection" fees. When drivers or companies don't pay – or, as was the case with Chivalan, sometimes even when they do pay – gangs kill the driver and rob the bus.
---