UN calls for Venezuela-Colombia dialogue over FARC row
Venezuela President Hugo Chávez severed ties after Colombia accused its neighbor of harboring Marxist guerrillas of the FARC rebel group. UN and Latin American leaders are calling for dialogue and restraint.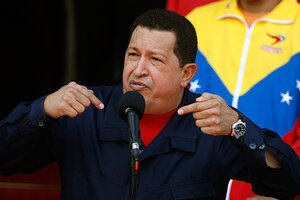 Fernando Llano/AP
International observers are calling for restraint and dialogue between Colombian President Alvaro Uribe and Venezuelan President Hugo Chávez, after Venezuela cut off diplomatic ties with its neighbor Thursday.
The latest spat between the fierce foes comes after Colombia presented evidence alleging that Venezuela is giving shelter to leftist rebels, a charge Venezuela denies. It comes as Colombia inaugurates its new president, Juan Manuel Santos, Aug. 7, and highlights the incoming administration's challenge of smoothing over a decade of diplomatic difficulties with Venezuela.
United Nations Secretary General Ban Ki-moon called for restraint. "The Secretary-General hopes that the differences between Colombia and Venezuela will be worked out through dialogue," according to a UN statement issued Thursday night. Latin American leaders reiterated calls for dialogue, some even offering to step in as mediators.
---