Venezuela plotted to kill Colombia president, Spain judge says
(Read article summary)
A Spanish judge on Monday charged that Venezuela plotted to kill Colombia President Álvaro Uribe, collaborating with rebel groups ETA and FARC to kill other political officials as well.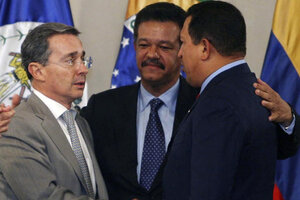 Miraflores Press Office/AP/File
• A daily summary of global reports on security issues.
A diplomatic row has erupted between Spain and Venezuela after a Spanish judge accused officials in Caracas of plotting with rebel groups to kill Colombian President Álvaro Uribe and other political officials.
Spanish National Court Judge Eloy Velasco charged on Monday that the government of Hugo Chávez had been working as an intermediary between the Basque separatist group ETA and the Colombian guerrilla group Revolutionary Armed Forces of Colombia (FARC). The groups were allegedly plotting against prominent political figures living in or traveling through Spain. Venezuelan officials have dismissed these allegations as "biased and unfounded."
Spanish officials ordered that 12 supposed members of ETA and FARC stand trial for conspiracy to commit murder and conduct terrorist acts, reports The Wall Street Journal.
"There is evidence … showing the cooperation of the Venezuelan government in the illegal collaboration between FARC and ETA," according to the indictment....
---