Giving up guerrilla warfare for good grades in Colombia
Colombia's Peace and Reconciliation program provides psychological help, educational opportunities, and job aid to the thousands of fighters who once engaged in guerrilla warfare.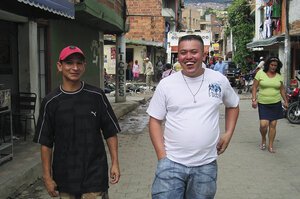 Sara Miller Llana/The Christian Science Monitor
The first year that Dany Noswis spent with right-wing paramilitaries in Colombia he was panicked and homesick. He was 19 when he left without telling his family, drawn by money.
In the next five years he spent as a paramilitary, he says, he saw enough killing and cruelty to haunt his dreams for decades to come. "So many people had nothing to do with this war," he says ruefully.
Five years ago, though, he was given a fresh start.
RELATED: Colombia offers clues for solution to Mexico drug war
When Colombia demobilized paramilitaries, beginning in 2003, scores of young men like Mr. Noswis headed home, many to the rough neighborhoods from which they fled or were initially recruited, and joined the Peace and Reconciliation program run by the city of Medellín.
"They are giving us the opportunity to be a real person in life," Noswis says during a weekly group session, this one on democracy. "Today I am a person who does not hurt anyone."
---