Colombia's Santos vows to build on decade of progress
Colombia's new conservative President Juan Manuel Santos also struck a conciliatory tone as he was sworn in Saturday, despite the recent bellicose rhetoric from Venezuela's leftist leader, Hugo Chávez.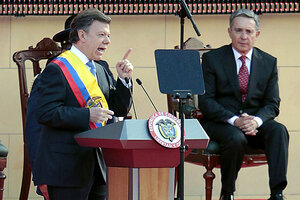 Jose Miguel Gomez/Reuters
When Álvaro Uribe was sworn in as president of Colombia in 2002, the Revolutionary Armed Forces of Colombia (FARC) disrupted the inauguration with a mortar attack in the capital, Bogotá.
Eight years later, Juan Manuel Santos was sworn in Saturday as the 59th president of Colombia, in a peaceful event that underscored how much security in the war-torn country has improved. And while Mr. Santos promised to maintain Mr. Uribe's hard line against the leftist rebels, he equally emphasized social equality, good governance, and international relations – in attempt to move Colombia, and his own administration, into a new era.
"From the appointments he has made and what he has said so far, he is trying to set himself apart [from Uribe], and not just continuing exactly on with his security policy," says Arlene Tickner, a political analyst at the University of the Andes in Bogotá. "[In his inaugural speech] he stressed much more the need to consolidate the gains made in security in terms of democracy and institutions."
A vow to stay tough
Santos has the luxury of not having to focus solely on security, and that is thanks to Uribe.
Colombia is by no means free from the threats of violence. During the Santos inauguration, some 30,000 troops guarded the city to prevent a repeat of the unrest during Uribe's 2002 swearing in.
But the kind of terrorism that marked the country 10 years ago is largely absent today. Overall, kidnappings are down by 90 percent. The government says that number of FARC members has been slashed in half and the rebels pushed deep into rural areas.
Santos, who was defense minister under Uribe and orchestrated some of the most successful operations against the FARC, vowed to stay tough.
---