Colombia denies Chávez's accusations that it plans to invade Venezuela
(Read article summary)
One day after Venezuelan President Hugo Chávez ordered troops sent to the border, Colombia denied Saturday that it had any intention of invading its 'brother country.'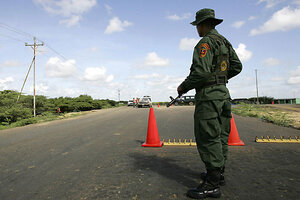 Isaac Urrutia/Reuters
• A daily summary of global reports on security issues.
Colombia has denied Venezuelan President Hugo Chávez's accusations that Colombian forces plan to invade his country amid an escalating diplomatic row.
"Colombia has never thought of attacking its brother nation [Venezuela] as the president of that country says, in a clear political deception of his own country," Colombian President Álvaro Uribe's office said in a statement issued Saturday.
Colombia will, however, continue to insist that Venezuela stop harboring members of the Revolutionary Armed Forces of Colombia (FARC), even though Chávez has consistently denied any collusion with the leftist rebels that have fought the Colombian government for decades.
STORY: Why Chávez won't cut off oil to the US
"Colombia has gone to the channels of international law and will continue insisting on those mechanisms so there is an instrument to make the Venezuelan government comply with its obligations not to harbor Colombian terrorists," said the statement.
Relations between the two nations have soured in recent days after Mr. Uribe presented evidence that Mr. Chávez is harboring the FARC. On Friday, Chávez declared that he had ordered Venezuelan troops to the border in response to a perceived threat from Colombian forces.
---