How Colombia's President Santos aims to tackle decades of violent land disputes
Colombia President Juan Manuel Santos's new attempt at land reform will begin with the restitution of 5 million acres over four years – an area about the size of Massachusetts.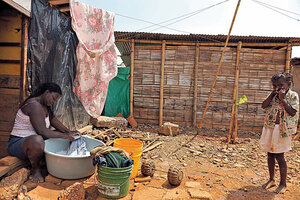 Luis Robayo/AFP/Getty Images
Colombia has tried this before.
In 1968, the government encouraged peasants to take over fallow land. This spurred Manuel Aguas, once a stableboy who grew weary of taking orders from his boss's children, to join 19 other families in invading a large ranch, which was eventually expropriated and awarded to them by the government. The peasant movement was short-lived as its leaders were labeled leftist guerrillas and either killed or scared away.
"I fulfilled my dream but so many others died before they could," says Mr. Aguas, now in his 70s.
Today, the government is again attempting land reform in the face of violent opposition. Newly instated President Juan Manuel San­tos launched a bold new policy in September that aims not only to offer land to the landless, but to formalize land tenure, rationalize land use, and reverse the violent accumulation of land by illegal forces over the past two decades. In his inaugural speech in August, Mr. Santos, a centrist, vowed to give land to "those who work it with vocation and the sweat of their brow."
The unequal distribution of land is both a root cause and a prime consequence of political conflicts that have plagued Colombia for the better part of a century. The new bill "is the only way to end the cycle of conflicts," says Alejandro Reyes, an adviser to the government on land policy.
Violent opposition
---