Medellín, once epicenter of Colombia's drug war, fights to keep the peace
Medellín is seen as a success story of former President Álvaro Uribe, whose successor faces a crucial test amid the resurgence in drug war violence.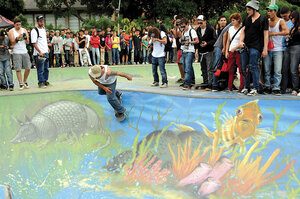 Raul Arboleda/AFP/Getty Images/File
When Juan Manuel Santos was elected president of Colombia this summer, voters across the country said it was his security policy that drew them to the former defense minister. Under tough-fisted former President Álvaro Uribe, Mr. Santos helped wrest control back from drug traffickers, rebels, and paramilitaries.
But Colombia's transformation under Mr. Uribe is under threat in urban areas across the country, posing a crucial test for Santos. Perhaps nowhere is that more true than in Medellín, where the murder rate has skyrocketed in recent years. Visiting the city in early October, Santos urged citizens to report crime and pledged to send security reinforcements to help restore order. What happens in Medellín next could prove a political bellwether for Santos and the legacy of Uribe.
"This increase in violence, this is our biggest challenge of the day," says Piedad Patricia Restrepo, coordinator for Medellín Como Vamos, which studies public perceptions and city policies. "It affects everything from economic activity to social capital."
IN PICTURES: Mexico's drug war
Homicide rate dropped lower than in New Orleans
A case study in urban security, Medellín is the former base of drug kingpin Pablo Escobar, who in the 1980s turned the "eternal city of spring" into one of the most dangerous postal addresses on the planet. Since then, a combination of urban planning at the local level, security at the federal level, and a truce among gangs on the ground has given rise to what some say is no less than a miraculous transformation.
---