In Haiti election, voter confusion, apathy loom large
Despite the importance of today's Haiti election, turnout is expected to be low amid voter intimidation, confusion, and apathy.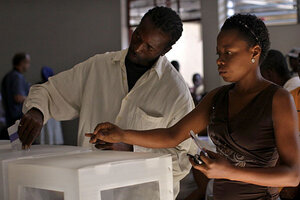 Eduardo Munoz/Reuters
Officials and aid workers are rushing to stem the spread of cholera. Streets are still filled with rubble. And more than 1 million people are living in camps.
Even under standards set by Haiti's tumultuous past, today's national elections are tricky.
"If we've ever needed a strong president as much as we do now, I can't remember it," says Bernadette Jean, who lives in one of the country's estimated 1,300 camps filled with survivors of January's earthquake.
Haitians are lining up to vote today for a president, 99 congressional deputies, and 10 senators in what has been called one of the most important elections in the country's history. But despite the importance of the vote, turnout is expected to be low amid voter intimidation, confusion, and apathy.
IN PICTURES: Celebrities giving to Haiti
"Why vote?" asks Ms. Jean, undecided about whether she would cast a ballot and disgusted that the party she supports, Fanmi Lavalas, has been barred from running candidates. "People don't vote, because people don't trust the elections."
Not far from Jean's camp, the presidential palace lay in ruins, a reminder of how January's earthquake decimated the government -- and the enormous task that lies ahead.
The top candidates
A few of the 19 presidential candidates have emerged as potential winners, including former first lady Mirlande Manigat; the current president's choice, Jude Celestin; a musician named Michel "Sweet Mickey" Martelly; and prominent businessman Charles Henri Baker. But with polling notoriously unreliable, few have wagered to name a front-runner.
---