Haiti protests escalate over source of cholera
With more than 1,000 deaths from cholera, Haitians are directing anger at UN peacekeeping forces whom many suspect of having introduced the disease. The protests are undermining treatment efforts.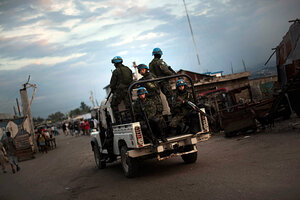 Emilio Morenatti/AP
Port-au-Prince, Haiti; and Mexico City
Protests throughout Haiti, directed at United Nations workers suspected of introducing cholera here, are undermining treatment efforts by aid workers and threatening to delay the looming national election.
The death toll from cholera has surpassed 1,000, the government said Tuesday, and a suspicion – not proven – that the disease could have come from Nepalese workers for the UN Stabilization Mission in Haiti (MINUSTAH) has fanned long-held resentment of the presence of the 12,000-person peacekeeping force in the country, there since 2004.
President René Préval on Tuesday delivered a national address that appealed for calm in the northern city of Cap Haitien, where at least two people have been killed in gunfire amid street protests against the UN "occupation."
"Gunshots, throwing bottles, barricades of burning tires will not help us eradicate cholera bacteria. On the contrary, it will prevent the sick from receiving care and to deliver medicine where it is needed," Mr. Préval said.
Protests in various cities have forced many aid organizations to temporarily stop providing help to those suffering from the symptoms of cholera. "We have staff over the weekend who started our emergency cholera response program in Cap Haitien, but Monday the airport closed, no staff have come and gone from Cap Haitien, and we've had to temporarily cease our program," says Julie Schindall of Oxfam.
---