Ecuador and Venezuela compete to praise WikiLeaks' Julian Assange
WikiLeaks' trove of 250,000 cables will probably not damage US relations in Latin America, experts say, but some regional leaders are seizing the opportunity to lambast the Washington.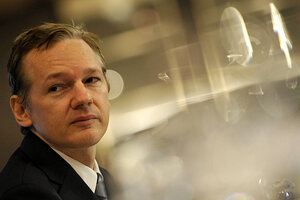 Lennart Preiss/AP/File
It's a rare day when Ecuador can out-Chávez Hugo Chávez.
The Venezuelan president seems to seize every chance to criticize the United States, and he didn't miss a beat by praising the "bravery" of controversial website WikiLeaks – which is releasing a cache of 250,000 classified US diplomatic cables – and calling for the resignation of US Secretary of State Hillary Clinton.
But Ecuador has apparently gone a step further by inviting WikiLeaks founder Julian Assange to live in the Andean country "without any kind of trouble and without any kind of conditions," according to government statements made in the Ecuadorean newspaper Hoy.
"We are inviting him to give conferences and, if he wants, we have offered him Ecuadorean residency," Deputy Foreign Minister Kintto Lucas was quoted saying in today's newspaper.
Leak is embarrassing, but not jeopardizing
---