Photos of isolated Amazonian tribe raise awareness of deforestation in Brazil, Peru
Stunning new photos of an isolated Amazonian tribe raise awareness of illegal logging along the Brazil-Peru border. But should the photographer have asked for permission first?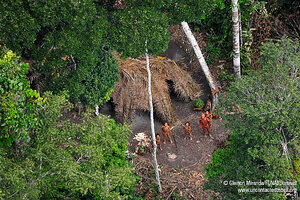 Courtesy of Survival
An indigenous rights group this week released stunning new photos of a supposedly isolated Amazonian tribe, saying illegal loggers operating near Brazil's remote eastern border with Peru are threatening their survival.
The photos show five almost-naked Panoan Indians covered in natural red dyes, probably from the urucu or annatto plant. Some of them are holding bows and arrows and all appear healthy.
The photos were taken by Brazil's National Indian Foundation (FUNAI) and given to the London-based group Survival, which released them ahead of a BBC documentary called "Jungles" to be broadcast today in the United Kingdom.
While the publication of the photos, widely reprinted online across international media, was criticized by some as exploitative and invasive of the privacy of the Amazonian tribe, Survival said it released the photos to try and jolt the Peruvian government into stopping the loggers' advance into Brazil. Their publication came just days after Brazil's government authorized initial work on the controversial Belo Monte hydroelectric plant that is expected to destroy Indian-occupied rain forest elsewhere in the Amazon.
---