How Colombia's President Santos made peace with the judiciary
Colombia's legal reforms are key for securing passage of a new US-Colombia free trade agreement. President Juan Manuel Santos is meeting today with President Obama to discuss the issue.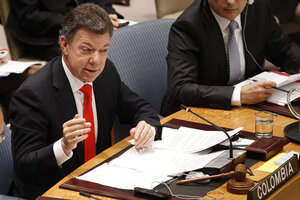 Shannon Stapleton/Reuters
After years of tension between Colombia's executive and judicial branches, newly-elected President Juan Manuel Santos has extended an olive branch to the courts and taken steps to bolster the power and legitimacy of the judiciary.
Colombia's judicial weaknesses are arguably some of the greatest obstacles to stability and effective governance today in a nation still struggling with paramilitary violence, the bitter legacy of a drug war, and the vestiges of a guerrilla insurgency. Underscoring the problem, Mr. Santos has launched a number of reforms in his first half-year in office, placing him in stark contrast to a predecessor who clashed repeatedly with the courts.
He is meeting today with President Obama in Washington to offer a timeline of major legal improvements – key for securing passage of a new US-Colombia free trade agreement. The United States has been pressuring Colombia to enforce labor laws more vigorously, a past roadblock in Congressional debates over the trade deal, which is projected to boost American exports to Colombia by $1 billion annually.
Think you know South America? Take our geography quiz.
Santos is expected to announce changes to the penal code, increasing the number of inspectors and prosecutors in provincial areas, and boosting overall judicial manpower. Separately, Santos is also expected today to speak about proposals coming from his new judicial reform commission.
---