Venezuela's Chávez bankrolled Nicaragua with $1.6 billion since 2007
Nicaragua's Central Bank released a long-awaited report Wednesday that reveals the government's growing dependency on the oil largesse of Venezuelan President Hugo Chávez.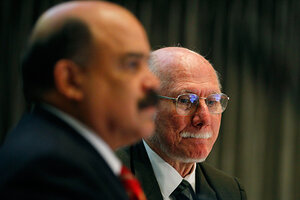 Jorge Silva/Reuters
Venezuela upped aid to Nicaragua last year by 15 percent to $511 million, more than making up for diminishing aid flow from other countries, according to a report released Wednesday from Nicaragua's Central Bank.
Since President Daniel Ortega returned to power in 2007, Venezuelan President Hugo Chávez has provided his comrade with $1.6 billion in total aid, according to a Monitor tally of Central Bank figures. That growing pool of petro-dollars has supported Mr. Ortega's political programs and perhaps even saved his nation's fledgling economy from collapse, according to opposition analysts and the president himself.
The Venezuelan aid, managed privately by President Ortega and his inner circle, has given the Sandinistas access to more discretional funding than any other government in Nicaragua's history and also helped the economy grow by 4.5 percent last year, faster than any other Central American economy except Panama.
Despite the encouraging numbers, some worry that NIcaragua is increasingly putting its eggs in one basket. The new report reveals Nicaragua's growing dependency on a tenuous financial arrangement that is contingent on revolutionary ideology and the tight political friendship between Ortega and Mr. Chávez.
The International Monetary Fund (IMF) last October insisted that Nicaragua open the books on Venezuelan aid amid growing concerns about the possible effects that it could have on the country's economy. The government's answer came in the form of this week's Central Bank report on foreign aid that was quietly posted to its website Wednesday.
---