Red Sox-Yankees series highlights globalization of baseball
When the Red Sox and Yankees kicked off a three-game series today at Fenway Park in Boston, 14 of the 50 players were foreign-born, representing a game that is rapidly globalizing.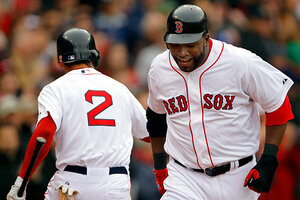 Adam Hunger/Reuters
Santo Domingo, Dominican Republic
When the Red Sox and Yankees met for the first time this season today at Fenway Park, the greatest rivalry in America's pastime had a decidedly foreign flavor.
Fourteen of the 50 players on the field or in reserve were born outside of the United States, including Red Sox slugger David Ortiz, better known as "Big Papi" in his native Dominican Republic, and the Yankees' Panamanian closer Mariano Rivera.
They are stars that represent the changing face of a game that once barred blacks but is now rapidly globalizing. From Australians to Venezuelans, a total of 234 foreigners – 27.7 percent of all players – graced opening day rosters this year, according to Major League Baseball statistics. The New York Yankees, with 16 foreign-born players, are the most international team in baseball.
It is the third most-international season in MLB history. In 2005, 29.2 percent of players were foreign-born, and the 2007 season saw 246 players were born outside the US.
---