Caramel corn for Red Sox home opener
(Read article summary)
Baseball, the Red Sox, and caramel corn have returned to Boston.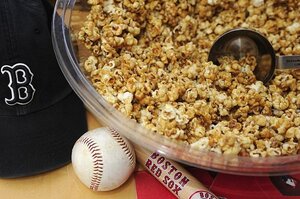 Joanne Ciccarello/Staff
The days are longer, the first spring flowers are blooming, and in general Bostonians seem a little friendlier. Here at the Monitor there is another harbinger of spring: The art department shows up in Red Sox jerseys and eats hot dogs and caramel corn in the middle of the newsroom.
Today marks the Red Sox's 99th home opener against the "evil" Yankees. Let's play ball!
Some traditions never die, but when a sea of red engulfs Fenway Park today, Red Sox Nation fans will be greeted with something new – concessions offering more sophisticated eats. The Boston Herald reports that the new fare includes, "chili dogs, double cheeseburgers, sushi from nearby Basho Japanese Brasserie and remodeled concourses with concession stands that serve yogurt, smoothies and hand-cut fresh fruit."
Did you say sushi? At Fenway Park?
"We have brand-new stars on the team," Fenway Park senior executive chef Ron Abell told the Herald. "So we needed brand-new food, too."
Woah, woah, woah. Whatever happened to the simplicity of "buy me some peanuts and Cracker Jack"?
---