Leftist Humala leads Peru election polls, but undecided voters could cause upset
Eleven percent of the electorate was still undecided ahead of today's Peru election, a fact that could swing the vote away from leading candidate Ollanta Humala.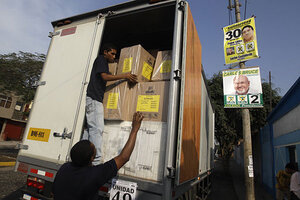 Silvia Izquierdo/AP
Peru's closely fought presidential election may come down to voters like Miguel Peña when more than 19 million people go to the polls today.
Mr. Peña, who helps park cars at a supermarket in Lima, the capital, has not decided who he will vote for out of a field of 10 candidates. He says he is still trying to decide between front-runner Ollanta Humala, former President Alejandro Toledo (2001-2006), and former Finance Minister Pedro Pablo Kuczynski.
"I like Humala, because he says he will work for the poor, but we hear on the radio that he will take the country backwards. I haven't decided, but I think it might be Humala," he says.
Peña is among 11 percent of the electorate that is still undecided and could toss a last-minute wrench into a race that has seen four people take the lead in the past two months. Mr. Humala, the only major left-wing candidate in the race, was the latest to break out of the pack.
And he has broken out decisively, according to internal polls seen by the Monitor but not allowed to be published. Fernando Tuesta, head of the polling institute at Peru's Catholic University, says Humala "will make it to a second round unless something catastrophic happens."
---