The battle to become Peru's next president
Analysts predict a tight June 5 runoff after this weekend's presidential vote. Left-wing candidate Ollanta Humala is expected to face Congresswoman Keiko Fujimori, daughter of the imprisoned former president Alberto Fujimori.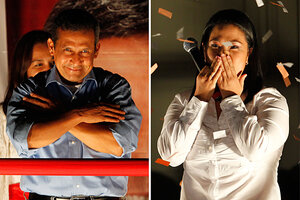 Pilar Olivares/Enrique Castro-Mendivil/Reuters
Peru's closely fought presidential election has come down to the final two.
The left-wing candidate in Peru's presidential election, Ollanta Humala, came out on top of the 10-candidate field Sunday and is now expected to face Congresswoman Keiko Fujimori in a tight June 5 runoff.
Mr. Humala, who only one month ago was in fourth place, had nearly 30 percent of the votes, with 75 percent of the ballots counted early Monday morning. Quick counts by major polling firms put his totals closer to 33 percent.
While Humala and Fujimori were the top vote-getters, they are also the candidates with the highest negative ratings, says Coletta Youngers, a senior associate at the Washington Office on Latin America, creating a potentially destabilizing scenario.
"This is going to be an extremely polarized vote. Two months is a long time, but today it would appear that Humala has the upper hand," says Ms. Youngers.
The runoff
This is Humala's second run for the presidency and the second time to come in on top in the first round. The tight runoff is also reminiscent of 2006, when Alan García beat Lourdes Flores Nano by a mere 60,000 votes to face Humala. Mr. García turned around and won the second round with nearly 53 percent of the votes.
The Humala-Fujimori runoff is likely to be as polarizing as it will be nasty.
---