Is Canada about to face US-style housing meltdown?
Skyrocketing home prices in Canada, particularly in cities like Toronto, are fueling concerns that Canadians are overspending as they assume – as the US did – that real estate prices can only go up.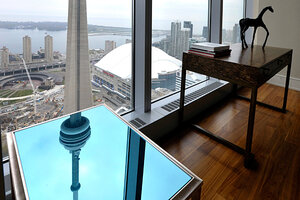 Mike Cassese/Reuters/File
Actor and broadcaster Jeff Douglas says he knows there are "more responsible" things to do than take on a mortgage he will likely have to pay until he turns 70.
But that didn't stop him and his wife, interior painting contractor Ana Maria Diez, from charging headlong into the battleground that has become the Canadian real estate market.
Mr. Douglas and Ms. Diez fell in love with and purchased a 1,300-square-foot duplex in a middle-class west Toronto neighborhood last month for $632,000. Like an increasing number of Canadian buyers, they sealed the deal after duking it out with several other couples who also wanted the house. They placed no conditions on their contract and finally paid 112 percent of the original list price of $555,000.
"It was one of the last houses I think we'd have a shot at because the price of houses in Toronto goes up every week so it was definitely a now or never situation," says Douglas. "At $625,000 ($632,000 in US dollars) we feel like we got a bargain."
Douglas and Diez may feel lucky. But house purchases like theirs are increasingly fueling concerns that, like their American neighbors a few years ago, Canadians are spending themselves into financial disaster.
"What we are seeing is the irrational exuberance that was present in the US," says David Madani, a former Bank of Canada analyst now with the consultancy Capital Economics. "It has all the symptoms of a disaster waiting to happen."
---