Can Mexico reclaim title as region's largest economy from Brazil?
Mexico was once Latin America's darling, but in the past decade Brazil has far surpassed it as commodities drove economic growth. President-elect Peña Nieto is eager to reposition Mexico.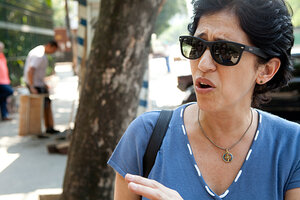 Melanie Stetson Freeman/The Christian Science Monitor
MEXICO CITY and RIO DE JANEIRO
Mexico's President-elect Enrique Peña Nieto has embarked on a diplomatic tour of six countries in Central and South America in an effort to reset rocky relationships and reestablish Mexico's position in the region.
Top talking points include the region's shared security concerns, especially with Guatemala and Colombia, and smoothing trade relations with Argentina and Brazil, both of which have had recent commercial spats with Mexico. Mr. Peña Nieto is also visiting Chile and Peru.
But Brazil looms especially large: Mexico, which in 2005 lost its status to Brazil as the region's largest economy, is eager to reposition itself as an economic and political leader. If Peña Nieto is going to secure those regional leadership credentials, he must reach out to the continent's current giant.
Peña Nieto, who will officially take office Dec. 1, is poised to return the Institutional Revolutionary Party, or PRI, to presidential power following 12 years of governance by President Felipe Calderón's National Action Party. Before 2000, the PRI ruled with near-authoritarian control.
---