Peru: As Shining Path's political arm grows, government clamps down
The Shining Path terrorized Peru in the 1980s and '90s. But the recent growth of its political wing has prompted Peru's government to introduce a muzzle law that some say goes too far.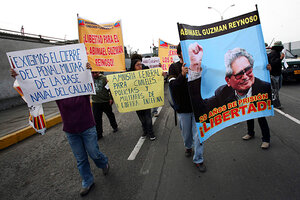 Vera Lentz/Reuters/File
The Shining Path, a Maoist group that terrorized Peru during the country's civil war in the 1980s and '90s, is putting the government on the defensive once again.
The recent growth of the Movement for Amnesty and Fundamental Rights (Movadef), the group's political arm, has prompted President Ollanta Humala's government to draft a draconian law proposing to jail anyone who "denies or minimizes" the terrorist acts that took place during the conflict.
Aside from automatically making membership of Movadef illegal, the law will penalize anyone who sympathizes with them, prompting fears that the government will exploit the law to silence legitimate protest and dissent.
"We are not going to let these people damage Peru," says Julio Galindo, head of anti-terrorism for Peru's Prosecutor General and one of the law's main proponents. He says anyone who justifies the many atrocities carried out by Shining Path militants – the group is believed to be responsible for just under half of the conflict's 70,000 civilian deaths – is dangerous, and Peruvians need a law to protect them.
But thousands of people were jailed and tortured after being falsely accused of links to the Shining Path during Peru's brutal civil war, in which the guerrillas attempted to violently overthrow the government. Edgar Rivadeneyra was one such prisoner. Mr. Reynivaderas was imprisoned and abused for 10 years between 1992 and 2002, then went on to found Peru's Association of Reflection for Liberated Innocents after his release.
---