Leftists across Latin America gather for Sao Paulo Forum congress in Nicaragua
(Read article summary)
The leftists that comprise this group are, in many cases, more divergent than the right-left divide in their own countries, but from the rhetoric you would never know it.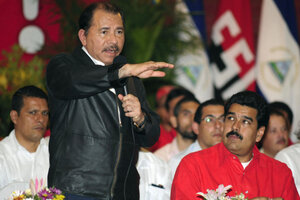 Jorge Cabrera/Reuters
For people whose worldviews were informed by a rigid Cold War paradigm of left versus right, sometimes it's hard to move beyond the notions of a universe tidily divided into easily digestible concepts of good and bad, socialist and capitalist.
That's especially true in Latin America, where political discourse is often constructed using antiquated terms, nebulous concepts, and old fears from a bygone era.
The opening of the São Paulo Forum, a Latin American and Caribbean conference of left-leaning political parties and social movements that is holding its 17th international congress this week in Nicaragua's capital, Managua, is a case in point.
"The battle is the same against capitalism, with its most sophisticated forms of domination," said Nicaraguan President Daniel Ortega, opening the forum. He was in his element flanked by a gaggle of 257 international leftists and personalities from 32 countries – everyone from Cuban apparatchiks, Chilean anarchists, Vietnamese Communists, and Libyan diplomats, to deposed former Honduran President Manuel Zelaya (the only guy in the room wearing a suit and tie, in daring defiance of the socialist-casual dress code).
Encouraged by enthusiastic applause from the international delegates, and the hoots of approval from his Sandinista Youth fan club dressed in their pink T-shirt uniforms, Mr. Ortega comfortably stepped into his role of the elder socialist statesman. "The tyranny of capitalism! The tyranny of imperialism!" Ortega waxed, squinting into the distance as if the lights were too bright.
---